Comparative Oncology: The Next Frontier
Back in September, Imogen Lovera from the Bio-Analysis Centre attended a symposium asking the question, what can animals teach us about the biology of cancer? She wrote about what she discovered.
The second Oncology Special Interest Group Symposium "Comparative Oncology: The Next Frontier?" was held at the Royal Veterinary College (RVC) Camden Campus in London on Tuesday 6th September 2016. The meeting was focused on the value of veterinary species in advancing cancer care for all species.
Event organiser, Professor Oliver Garden of the RVC, welcomed delegates to the symposium and introduced the first speaker, Dr David Jones from the Medicine and Healthcare Products Regulatory Agency (MHRA). Dr Jones delivered an engaging synopsis of the drug development pathway, drawing from his own experience as an expert in pharmacotoxicology in the Clinical Trials Unit. He concentrated on the importance of nonclinical studies in veterinary species prior to beginning Phase I, II and III of human clinical trials (which measure safety and efficacy). The aim of these studies is to identify the target organ, characterise the toxic effects in response to treatment, review the extent of systemic exposure and provide initial information on a Safe Starting Dose (SSD) prior to Phase I commencement. An appropriate nonclinical study is the basis of extrapolation to indicate possible risks to humans. He concluded his presentation by emphasising the need to develop new methods to increase the number of drugs taken through the development pathway, without compromising the regulations in place.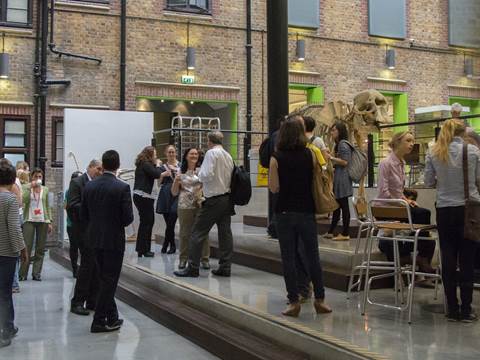 The discussion was continued by Professor Garden, this time speaking from the perspective of a veterinarian on how the information gathered by his profession could inform the human arena. He touched on the advantages of rodent models (short gestation, affordability and the ease with which they are genetically manipulated) but also spoke about their drawbacks, as the initial development of a transgenic mouse line, propagation of the colony and its maintenance are extremely labour-intensive. Some lines are immunodeficient (e.g. SCID mice), so an opportune microenvironment may be lacking. In addition, rodents tend to tolerate higher drug concentrations and suffer reduced toxicity, because their bone marrow is less sensitive compared to humans, which is one of the reasons why less than 8% of drugs that initially have merit in preclinical rodent models actually make it to drug approval. Could more suitable models increase this percentage? He mentioned other advantageous models (Zebrafish, Chickens, Drosophila and Xenopus) and then went on to speak about the traction that comparative oncology is gaining due to canine propensity to develop spontaneous cancers, often with an obvious breed predilection. Professor Garden questioned why the data generated is not being used to further drug development in humans. He then went on to give examples of how canines could add value to research in the human arena, for example, the possibility of longitudinal tissue sampling, which is unavailable when using murine models owing to their small size. Professor Garden went on to discuss the promising use of immunotherapy (which is advancing in the veterinary world) as a treatment. Unlike other anti-neoplastic treatment modalities, immunotherapy has the unique advantage of being both systemic and targeted, and is often used in conjunction with chemotherapy and other treatments.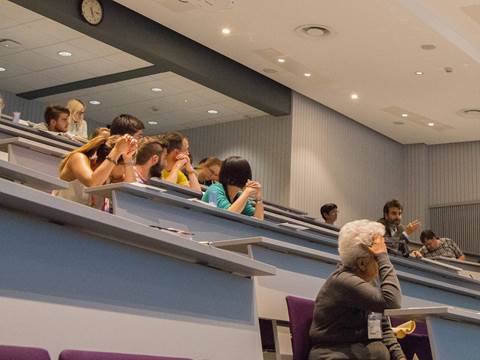 Dr Michelangelo Campanella continued the first session by presenting work conducted in his laboratory, focused on systemic evasion of mitophagy and how this is likely to underpin hormetic proliferative pathways in cancer. He described how mitochondria work in a network and how, under certain cellular stresses, they are removed by autophagy. Recent work has suggested that mitochondria in cancer cells generate a pathogenic retrograde signal to the nucleus, which sustains proliferative pathways and apoptosis evasion. TSPO is a stress response molecule that in mammals acts as a redox antagoniser of PARK2-mediated ubiquitination, thus limiting autophagic control of mitochondrial quality (a process known as mitophagy). Dr Campanella has discovered that TSPO positively associates with cancer progression across species, likely to be the consequence of deregulation of mitophagy in both human and companion animal mammary cancer. The research of Dr Campanella's group found that TSPO exploits retrograde signalling in breast cancer cells and that this might represent a rate-limiting process responsible for long-term resistance to chemotherapy.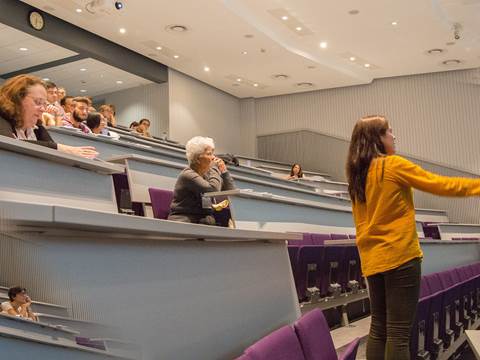 The Keynote Address at the end of the afternoon session, delivered by Professor Jonathan Gribben from Queen Mary University of London, was concerned with the impact of lymphoma on the tumour microenvironment. He spoke about previous work, where he had hypothesised that cancer cells drive changes in the host immune response that would generate a unique microenvironment, instrumental in helping cancer cells grow. Professor Gribben pointed out that by understanding the molecular processes that drive these changes, new therapeutic strategies that target the microenvironment in addition to targeting the tumour could improve the outcome of treatments for patients. He found that immune defects in cancer are induced by interaction with tumour cells and mediated largely by tumour cell surface ligands – including PD-L1. These cell surface ligands induce T cell 'exhaustion' that include defects in actin polymerisation, ineffective immune system formation and decreased cytotoxicity and motility. By blocking the PD-L1 pathway these changes can be reversed. He concluded by explaining that an increased understanding of how to reverse changes to the immune environment would enhance the ability to induce anti-cancer immune responses.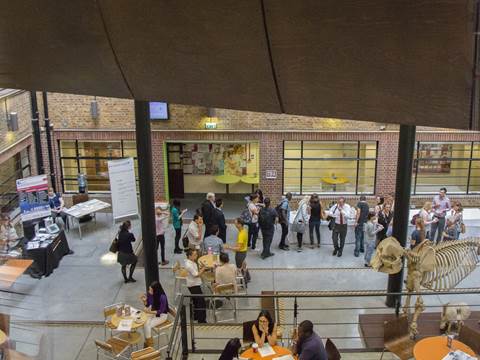 The evening session began with a Skype presentation by Dr Luigi Auriscchio. He spoke about the novel immunotherapeutic approaches for canine lymphoma his companies, Evvivax and Takis Biotech, have developed. Evvivax uses a genetic vaccine targeting dog telomerase reverse transcriptase (dTERT) based on adenovirus DNA electro-gene-transfer technology that induces a strong cell-mediated immune response against tumour antigen. It increases overall survival in dogs with B cell lymphoma when used in conjunction with COP chemotherapy. Owing to similarities between canine and human gene expression, he went on to conclude that this could be a possible area to explore in the human arena.
Dr Imelda McGonnell of the RVC continued the evening session by presenting work conducted by her PhD student, Lisa Pritchard. The talk focused on the role of the myoepithelium in canine mammary carcinomas. The function of myoepithelial (ME) cells is to maintain epithelial cell polarity, elicit contractility during lactation, and produce basement membranes. Human tumours tend not to have ME cells, whereas in dogs they are still present – and interestingly, unlike human mammary tumours, 60% of mammary tumours in canines are benign. In rare adenoid cyst carcinomas occurring in humans, ME cells are still intact and the cancer rarely metastasises. Dr McGonnell suggested that ME cells could play a role as a metastatic inhibitor and a tumour suppressor. Ms Pritchard's research went on to ascertain whether, when present in dogs, malignant tumours lose their ME cells. P63 was used as a marker for ME cells and it was discovered that as malignancy increased, the number of ME cells decreased. This begs the question, where do they go? Further research found that they were not undergoing apoptosis, not undertaking mesenchymal to epithelial transition, and not changing into fully differentiated epithelia. This question has not yet been answered, but the lack of ME cells in more malignant tumours further aids the theory that they act as tumour suppressors. Dr McGonnell emphasised the importance of looking at the differences between canine and human cancers as opposed to simply using them as models. If key differences can be found, there is a possibility that treatment in the human arena could be enhanced.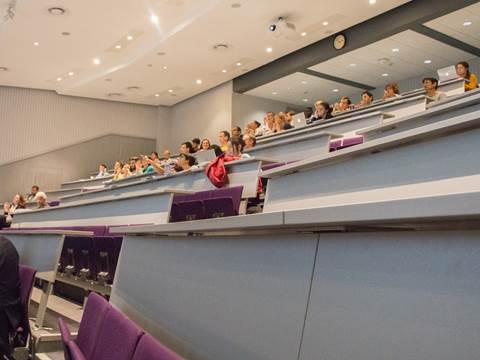 Dr Emanuele de Rinaldis joined us to develop the discussion on mammary carcinomas. He focused on research conducted prior to his current role at King's College London, which touched on the subject of genomics and bioinformatics. Dr Rinaldis found that independently developed prognostic signatures showed similar expression patterns in human mammary tumours – the same behaviour that is also seen in canine mammary tumours. This once again confirmed the beneficial potential of veterinary data to advance knowledge of human cancers.
The final session was completed by Dr Ana Lara-Garcia, who presented a number of current studies being performed by the Clinical Oncology Team at the RVC's Queen Mother Hospital for Animals. She then touched on the need to conduct further research on different types of lymphoma at a molecular level looking at gene signatures. Dr Lara-Garcia concluded her talk by reflecting that canine lymphoma has an enormous comparative value that can be utilised to improve the outcome of humans and canines in parallel.
Dr Malcolm Barratt-Johnson from PharmaMedic closed the meeting by emphasising the importance of veterinary and human clinical teams working alongside each other to facilitate the drug development pathway and ensure more drugs reach the market.
The symposium was kindly sponsored by the RVC, PharmaMedic, Takis Biotech, Chemometec, Nexcelom Bioscience and the Bio-Analysis Centre.