One Day Lab Skills Training Course
This course will teach users the general techniques that could be used in a GLP laboratory. Once training has been completed, the trainee will receive in-house certification.
The price for this 1 day course is £350. This cost-effective and competitively priced service gives the user a general guide to laboratory skills and techniques.
Unlike other companies providing a similar service, our training programme is usually 1-to-1 (no more than 2 at one time) and offers a more practical experience, allowing the user to spend time becoming accustomed to standard laboratory equipment.
As we are aspiring to 'Good Laboratory Practice' (GLP) compliance, standard laboratory protocols will be used during training (following our Standard Operating Procedures).
Training Programme
Lab skills training course includes: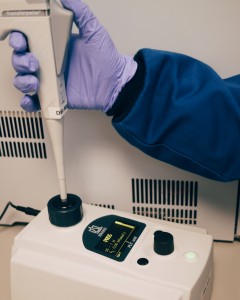 Pipetting
Preparation of serial dilutions
Preparation of buffers
Proper use of balances
Use of a pH meter
Centrifuge use
Use of PLT (pipette leak testing)
General lab safety
This course can be tailored to suit your previous laboratory experience. However, no previous experience is necessary. We have structured this course specifically to be of benefit to new graduates, students or those who may be stepping into a laboratory environment for the first time, or after a career break.
If you would like to book, or require more information, please don't hesitate to contact us.
What our clients say:
Shah-hussain Zaidi
Best Experience Ever! Prior to the course I had not been in a lab for a while. This course re-introduced me to the fundamentals of a lab and the practical use of universal lab equipment. The instructor, Cali, was amazing, she is very kind and welcoming. Cali ensured I understood each task to the fullest before moving onto another. Highly Recommended!