HPLC Training Services
In addition to providing analytical services, training on the Shimadzu Nexera XR HPLC instrument is also available. Once tr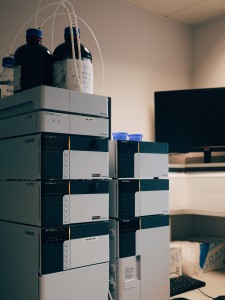 aining has been completed, the trainee will receive in-house certification, allowing them to use our equipment to run their own samples.
The price for this 3 day hands on HPLC Training course is £1500.  This cost-effective and competitively priced service gives the user more control over their research and allows them to work at their own pace. Although the user will be fully responsible for conducting their own work, there will always be a laboratory assistant available to help if needed.
Unlike other companies providing a similar service, our training programme is usually 1-to-1 (no more than 2 at one time) and offers a more practical experience, allowing the user to spend time becoming accustomed to the instrument.
As we are aspiring to Good Laboratory Practice (GLP) compliance, standard laboratory protocols will be used during training (following our Standard Operating Procedures).
Training Programme Goals
Learn how to set up and run HPLC analysis, understand the method parameters – including the column, the mobile phase, the instrumentation, and sample preparation, and how to interpret and quantify results of the analysis.
Schedule
Training on the HPLC (including standard laboratory protocol training) will take roughly 3 days, whereas the LCMS (also including standard laboratory protocol training) will require 4-5 days. Standard laboratory protocol training is also available on its own if required, learning techniques that could be used in a GLP laboratory. This should only take half a day to 1 day.
Once trained, the laboratory can be open for you from 8:00am until 9:00pm.
| | |
| --- | --- |
| Day One | Essential reading and standard laboratory protocol training |
| Day Two | Sample preparation methods (depending on requirement) and HPLC method development |
| Day Three | HPLC method development, data analysis and HPLC Q&A |