The Bio-Analysis Centre offers Triple Quad Mass Spectrometry, advanced HPLC plus the latest High Performance label free Capillary Electrophoresis (HPCE) system from deltaDOT. With these instruments we can assist in identifying and quantitating a wide range of analytes through contract research – based on over 20 years experience. We also offer routine analysis of certain compounds, contact us for more information and check out our blogs.
Best Experience Ever! Prior to the course I had not been in a lab for a while. This course re-introduced me to the fundamentals of a lab and the practical use of universal lab equipment. The instructor, Cali, was amazing, she is very kind and welcoming. Cali ensured I understood each task to the fullest before moving onto another. Highly Recommended!
I am very grateful that I had my first "real world" laboratory experience here at Bionanalysis. The support from Cali has been exceptional. Being a member of this analytical team made learning new, complex skills more enjoyable. This experience has opened a new possible career path, which I had not fully considered pursuing.
This internship has been an amazing experience. Before I was not confident with my laboratory skills and this internship has given me the confidence and all the basic skills needed to work in laboratory and get accurate results. I am very grateful that I got this opportunity."
Taking the LC-MS/MS course at the Bio-Analysis Centre has been an extremely valuable opportunity for me - it has provided me with intensive hands-on training in mass spectrometry and enabled me to work independently. At the BAC they were able to adjust the course content to my research and tailor the learning process to my needs and interests. The one-to-one training with Dr Carolyn Hyde was extremely helpful - she has been a great supervisor and I would like to thank her for her support. I would highly recommend this course to other students who would like to specialise in mass spectrometry.
"It has been great to work with Dr Carolyn Hyde on this project. Cali's analytical expertise made this potentially difficult project extremely straightforward. We were quickly able to optimise an LC/MS/MS assay to quantify a wide variety of lipids with great reproducibility and sensitivity, and measure these lipids in samples from human and cat urine. Having the facility in LBIC was fantastic as it made it possible to interact with Cali face-to-face on a regular basis, which really helped to expedite the work."
"I would like to thank Cali and her team at the Bio-Analysis Centre for providing an excellent and prompt service, training and supervising two second year undergraduate students from the RVC to use mass spectrometry as part of their short research project to evaluate the potential immunomodulatory effects of C-type natriuretic peptide. Cali gave very clear advice before the project started ensuring that the students prepared the correct samples and had the right controls for their analysis. Cali has provided a valuable learning experience for the students as well as enabling our group to obtain novel and reliable data, in a short space of time, using techniques that are not available in-house."
Kavin Abelak
PhD Student / UCL
"I recently attended the week long LCMS training with the Bio-Analysis Centre. It was a highly intensive course covering all basic as well as advanced lab techniques essential for successful LCMS assays. The training was imparted by Cali supported by her team of highly trained, friendly and knowledgeable technicians. It was a privilege to be taught by someone with so much expertise in the field."
From running a single sample, to being involved in a longer-term project, we pride ourselves on offering both Academia and Industry a fully comprehensive service.
We are aspiring to GLP compliance so that we will be able to meet a wider range of clients' analytical requirements.
In addition to providing an analytical service, we also offer training on the Shimadzu Nexera XR HPLC and the Shimadzu LCMS-8040 systems. Once training has been completed, clients will receive in-house certification, allowing them to use our equipment to run their own samples.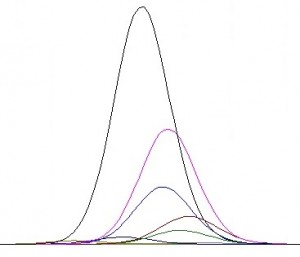 The manager, Dr Carolyn Hyde, obtained her degree at University College, Cardiff and carried out her PhD at the School of Pharmacy, University of London, followed by a post-doctoral fellowship in Peptide Synthesis at the Laboratory of Molecular Biology, Cambridge. Carolyn's next position was at the Medical Research Council (MRC) Clinical Sciences Centre, helping to run a core facility making and analysing peptides and DNA. She was instrumental in getting Mass Spectrometry included in the service offering.
From there she moved to UCL to run the Scientific Support Services (S3) where she helped several hundred researchers and biotech's solve their analytical challenges using Mass Spectrometry, HPLC, FPLC and SPR.
Typical challenges overcome whilst at the S3 were method development and optimisation with a view to producing data of sufficient quality for publication and clinical trials (in terms of resolution, sensitivity, repeatability and quantitation). Problems resolved included determining the presence of a contaminant in a supposedly pure sample.